JAFRAL – Digital Stand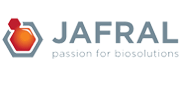 JAFRAL – THE Phage manufacturer
JAFRAL is world's leading phage manufacturer and has so far produced 12 Drug Products that have been used in clinical trials in Europe, United States and Australia.
As Contract and Development Manufacturing Organization (CDMO), JAFRAL's primary focus is production of bacteriophages (phages) as human therapeutics (investigational medicinal products), as well as for food industry, cosmetics and veterinary use.
JAFRAL offers complete portfolio of services: from phage hunting, phage characterization, process development, scale-up and routine production. All these activities can be done at GMP or non-GMP level.
Different production scales (1L, 2L, 5L, 10L, 20L, 30 – 200L) enable JAFRAL flexibility for different scale-up strategies. All these production scales can be done with aerobic as well as for anaerobic production hosts.
In parallel JAFRAL has also in-house analytical capabilities that support analytical development, in-process testing, release testing as also stability testing. There are more than 20 different analytical methods (from typical plaque assay to HPLC or DLS) that can be immediately applied, but there is also possibility that new customized methods can be developed.
For final product, JAFRAL offers liquid formulation, spray drying and lyophilization. These products can be either sterile or non-sterile.  Whereas purity can be achieved to the level that IV delivery is possible. Even with high concentration (≥ 1e12 PFU/mL) phages produced in Gramm-negative production hosts.
---
Product images: