Call for sponsors & exhibitors
OLIGO 2019 OXFORD encourages demonstration of R&D and laboratory supplies related to MOLECULAR BIOLOGY and OLIGONUCLEOTIDES, and invites commercial sponsorship. You are invited to choose from a variety of highly-competitive sponsorship packages listed below. If your needs are not covered by the offered packages please contact us in the first instance and we shall do our best to develop a package to suit your requirements.
Sponsorship packages
>Gold: Includes a speaker slot AND an exhibition stand (max 2)
>Silver: Includes a speaker slot OR an exhibition stand (max 2)
>Bronze
>Exhibition stand
>Delegate Bags (max 2)
>Delegate Badges (max 2)
>Event Documentation (max 2)
For booking form, packages and terms please email at:
---
SPONSORS
---
ATDBio was established to provide high quality oligonucleotides to scientists around the world. ATDBio oligonucleotides are used successfully in academic and commercial research in the fields of genetics, genomics, molecular biology, biochemistry, biotechnology and nanotechnology. We supply a wide range of custom-made unmodified and chemically modified oligonucleotides for small and large scale applications. ATDBio specialises in highly modified oligonucleotides. Each oligonucleotide we make is unique, and we insist on the highest standards to maintain the best possible quality for every oligonucleotide.
Address: ATDBio, Magdalen Centre, Oxford Science Park, Oxford OX4 4GA, UK
---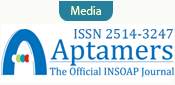 Invitation to submit an article to the journal Aptamers
We invite you to submit your research to the journal Aptamers (ISSN: 2514-3247), which is a new official open-access journal of the International Society on Aptamers, dedicated to publishing peer-reviewed research and reviews on all aspects of aptamer research.
We are happy to waive basic open access publication fee until 30 September 2019 for Oligo 2019 and Aptamers 2019 delegates, as long as the manuscripts are prepared according to the guidelines for authors.
---