Call for sponsors & exhibitors
OLIGO 2016 OXFORD encourages demonstration of R&D and laboratory supplies related to MOLECULAR BIOLOGY and OLIGONUCLEOTIDES, and invites commercial sponsorship. You are invited to choose from a variety of highly-competitive sponsorship packages listed below. If your needs are not covered by the offered packages please contact us in the first instance and we shall do our best to develop a package to suit your requirements.
Sponsorship packages
>Gold: Includes a speaker slot AND an exhibition stand (max 2)
>Silver: Includes a speaker slot OR an exhibition stand (max 2)
>Bronze
>Exhibition stand
>Drinks Reception
>Delegate Bags (max 2)
>Delegate Badges (max 2)
>Event Documentation (max 2)
For a Booking Form and further information about packages and other promotional opportunities email on:
Terms & Conditions of booking.
---
Bronze Sponsor & Exhibitor
ATDBio was established to provide high quality oligonucleotides to scientists around the world. ATDBio oligonucleotides are used successfully in academic and commercial research in the fields of genetics, genomics, molecular biology, biochemistry, biotechnology and nanotechnology. We supply a wide range of custom-made unmodified and chemically modified oligonucleotides for small and large scale applications. ATDBio specialises in highly modified oligonucleotides. Each oligonucleotide we make is unique, and we insist on the highest standards to maintain the best possible quality for every oligonucleotide.
---
Exhibitor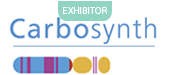 Carbosynth are a global supplier of carbohydrates, nucleosides and niche fine chemicals to scientists from the pharmaceutical and biotech communities. With more than 7,500 carbohydrates, nucleosides and fine chemicals for R&D, and many produced in bulk, Carbosynth have an extensive range and are continually developing new products and extending their catalogue. They have distribution hubs in Compton, UK, San Diego, USA and Suzhou, China and our dedicated teams of chemists and analysts support our catalogue and strive to provide products on time and in specification every time.
Carbosynth have diverse and broad experience in chemistries that range from small laboratory scale multi-step synthesis to large scale multi-tonnage manufacture and are able to draw upon a wide range of experience in chemistries and processes, especially in the fields of nucleosides. This range includes nucleoside building blocks, nucleosides, sugar nucleotides, phosphoroamidites, nucleoside mono and triphosphates.
Carbosynth also offers a range of carbohydrates and niche fine chemicals that include versatile building blocks or products with specialist applications ranging from biochemical reagents, natural antioxidants, coupling agents, to activators in peptide and oligonucleotide synthesis.
Custom synthesis is one of Carbosynth's fastest-growing business sectors and they are committed to providing in-time development, cost effective solutions and delivery of quality compounds.
Carbosynth: The Source for Carbohydrates and Nucleosides
More information: www.carbosynth.com, sales@carbosynth.com
---