BOC Sciences is a specialty chemical supplier, providing nucleosides, nucleotides and phosphoramidites to support our global clients in pharmaceuticals, biotech companies and academia. We offer hundreds of natural and modified nucleosides, nucleotides and phosphoramidite products in milligram to hundred kilogram scales.
To stay in the top tier of phosphoramidites supply, we always keep up with the latest technology and apply them to develop new products. Our specialty phosphoramidites include 2'-modified, UNA, dyes, quenchers, modifiers, etc. We have also developed pseudoUridine phosphoramidite, 1-Methyl-pseudoUridine Phosphoramidite and their derivatives in immediate response to the increasing interest and demand with their success in mRNA vaccines, taking advantages of our massive and competitive internal supply of pseudouridine.
We are a team with passion and professions. Our experts have been focusing on synthesis and purification of modified nucleosides, nucleotides and phosphoramidites with high purity levels, and developing specialty products for novel investigation.
BOC Sciences provides CDMO services for GMP grade products as well. Our facilities are US and EU GMP compliant and have passed US FDA inspection. Our manufacturing sites are equipped with hundreds of fermentors, reactors and multiple purification workshops.
BOC Sciences aims to create value by offering a large inventory of products and tailored to needs services to the fast growing RNA/DNA based therapeutics. We add value to our products and services by our strong capability, strict quality control, and excellent customer services. We hope to work with our clients to explore more options in Gene therapies.
---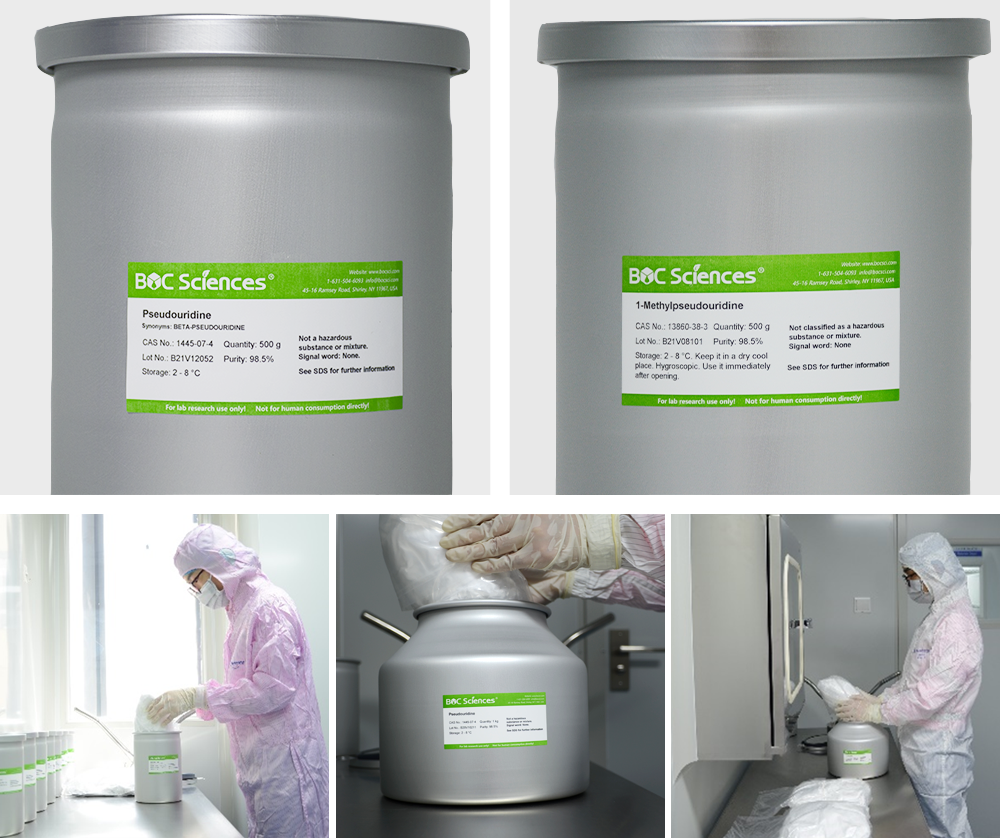 Our annual output of pseudoUridine (CAS 1445-07-4) and N1-MethylpseudoUridine (CAS 13860-38-3) is currently over 500 kg and 1000 kg respectively, which making us the largest manufacturer in the world. These two modified nucleosides are the raw materials for the production of COVID-19 mRNA vaccines. As the raw material of mRNA vaccine, N1-methylpseudoUridine can reduce mRNA activation of innate immunity, enhance mRNA stability, and improve mRNA translation efficiency. The purity of our products is up to 99%.
---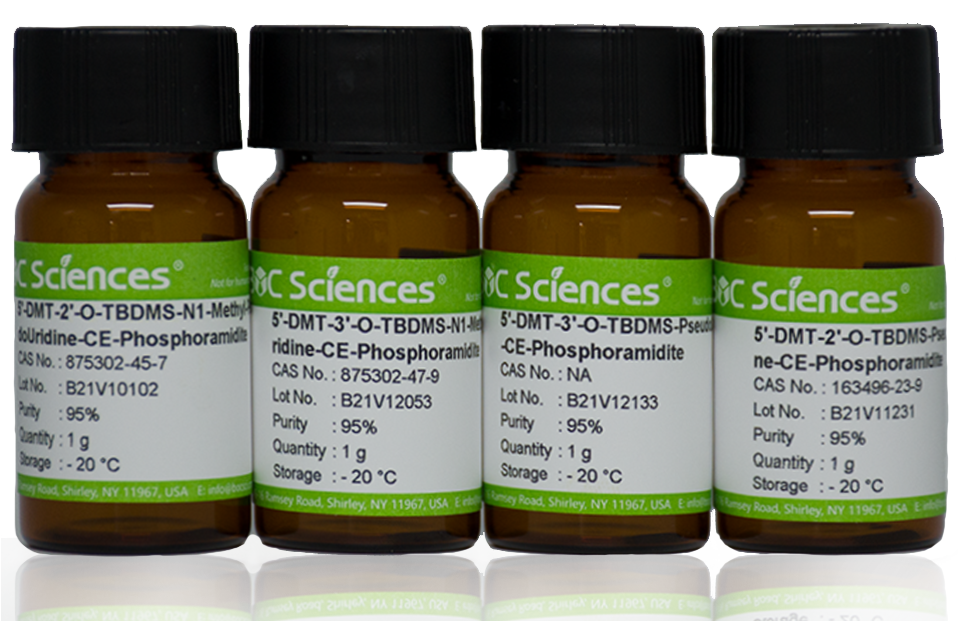 As we are the largest supplier of pseudoUridine in the world, our pseudoUridine phosphoramidite and it's derivatives have a competitive price. Such as 5′-DMT-2′-O-TBDMS-PseudoUridine-CE-Phosphoramidite (163496-23-9), 5′-DMT-2′-O-TBDMS-N1-Methyl-PseudoUridine-CE-Phosphoramidite (875302-45-7), 5′-DMT-3′-O-TBDMS-PseudoUridine-CE-Phosphoramidite and 5′-DMT-3′-O-TBDMS-N1-Methyl-PseudoUridine-CE-Phosphoramidite (875302-47-9). Our packing options range from milligram, kilogram to hundreds of kilogram quantities, not only for RNA therapy research, but also for commercial production.
---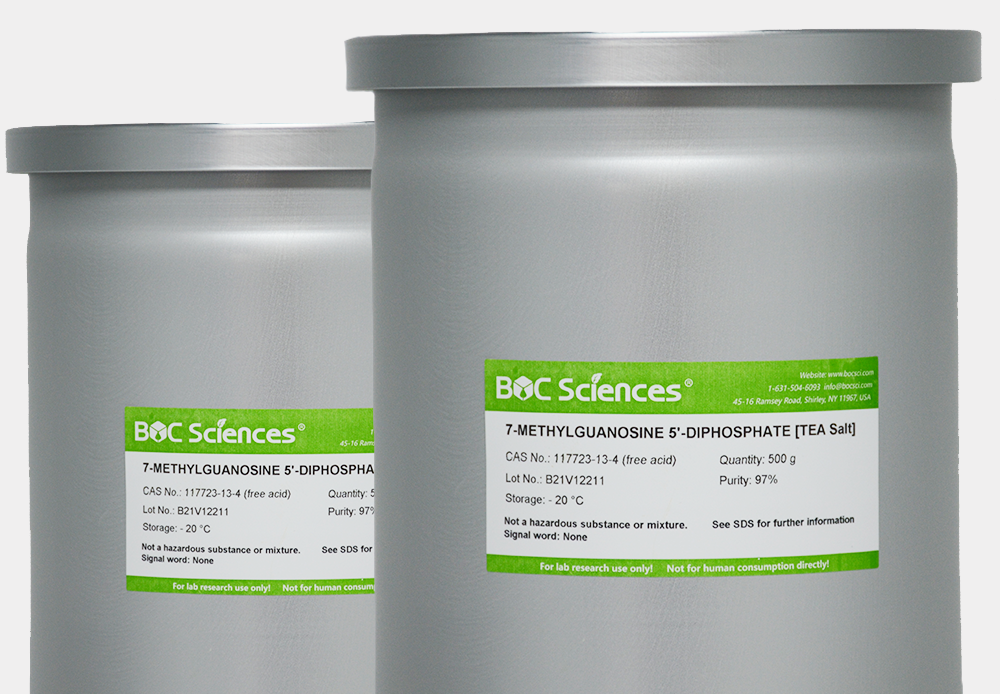 m7GDP (CAS 117723-13-4) is a building block used in the synthesis of mRNA cap analogues. It can also be used to study the structure, functions and metabolism of mRNA 5′-cap structures. Now, It is the raw material used in the cap analogs synthesis to the 5'end of the mRNA vaccines. Besides, the regulatory role of m7GDP in mRNA metabolic pathways has important implications. It can effectively inhibit cap-dependent translation and decapping. Our annual output of m7GDP is over 50 kg.
---
Product leaflets (pdf):
> Nucleosides & Nucleotides to support your research and production in mRNA based vaccine or therapeutic areas
> Phosphoramidites for oligonucleotide synthesis
---
BOC Sciences representative:
Demi Jia: service26@bocsci.com
---
---