Call for sponsors & exhibitors
Genome Editing and Gene Modulation 2016 Congress invites demonstration of R&D and laboratory supplies related to MOLECULAR BIOLOGY and invites commercial sponsorship. You are invited to choose from a variety of highly-competitive sponsorship packages listed below. If your needs are not covered by the offered packages please contact us in the first instance and we shall do our best to develop a package to suit your requirements.
Sponsorship packages
>Gold: Includes a speaker slot AND an exhibition stand (max 2)
>Silver: Includes a speaker slot OR an exhibition stand (max 2)
>Bronze
>Exhibition stand
>Drinks Reception
>Delegate Bags (max 2)
>Delegate Badges (max 2)
>Event Documentation (max 2)
For Booking Form and further information about packages and other promotional opportunities email on:
Terms & Conditions of booking.
GEGM 2016 Sponsors
Gold Sponsor, Exhibitor and Programme Partner
Sigma-Aldrich, now a part of Merck, is a global supplier of leading RNA interference (RNAi) tools including siRNA and the comprehensive MISSION® shRNA library through participation in The RNAi Consortium (TRC). As a key licensed supplier of siRNA and expert in high quality custom DNA and RNA oligonucleotide synthesis, our goal is to provide innovative products to meet your functional genomics and gene silencing research needs. The MISSION shRNA library of The RNAi Consortium, developed by the Broad Institute of MIT and Harvard, is a pre-cloned collection targeted against annotated human and mouse genes enabling scientists to elucidate gene function. For further details of the above products please visit www.sigma-aldrich.com.
Sigma-Aldrich, a leading Life Science and High Technology company focused on enhancing human health and safety, manufactures and distributes more than 200,000 chemicals, biochemicals and other essential products to more than 1.4 million customers globally in research and applied labs as well as in industrial and commercial markets. With three distinct business units – Research, Applied and SAFC Commercial – Sigma-Aldrich is committed to enabling science to improve the quality of life. The Company operates in 37 countries, has more than 9,000 employees worldwide and had sales of $2.6 billion in 2012. For more information about Sigma-Aldrich, please visit its website at www.sigma-aldrich.com.
---
Gold Sponsor and Exhibitor
Bio-Rad Laboratories has played a leading role in the advancement of scientific discovery for 60 years by providing a broad range of innovative tools and services to the life science research and clinical diagnostic markets. Bio-Rad's Life Science Group develops, manufactures, markets and supports a wide range of laboratory instruments, apparatus and consumables used for research in genomics, proteomics, cell biology and food safety.
In many of these areas Bio-Rad is both a leading supplier and a pioneer. For example, in our efforts to advance the capabilities of PCR, Bio-Rad introduced the first commercially available droplet-based digital PCR platform; a system that has gone on to be cited in over 250 peer reviewed publications.
Bio-Rad for Biomarker Research: Bio-Rad's Droplet Digital PCR technology is empowering cancer biomarker research by revolutionising how we detect rare mutations with absolute quantification. Researchers can now detect rare DNA target copies and resolve copy number variation states with superior sensitivity and resolution.
Meanwhile, researchers studying disease are now using ddPCR for more powerful screening of genome editing and efficient CRISPR validation.  Droplet Digital PCR is also showing great promise or diagnostics, making liquid biopsy a reality through reliable detection of circulating tumour DNA and cell-free microRNA.
---
Gold Sponsor and Exhibitor
Precise, efficient gene sequence targeting and modification technologies from ThermoFisher Scientific.
From precision genome editing and gene modification technologies to high-efficiency delivery systems, we have developed a broad range of solutions to help you create the modified genes, expression systems, and stable cell lines you need for your research—from culturing cells to modification, detection, and analysis. Our technologies—including GeneArt® TALs andCRISPRs—enable you to reliably modify genomic sequences and analyze the phenotypic outcomes. In addition, we can deploy a combination of advanced technologies to produce a custom construct or cell line that meets your specifications. Balancing performance and cost, our cell engineering portfolio is built on 20 years of industry-leading innovation and can grow with your research needs.
---
Silver Sponsor and Exhibitor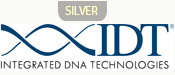 Integrated DNA Technologies (IDT) is a leader in the manufacture and development of products for the research and diagnostic life science market. The largest supplier of custom nucleic acids in the world, IDT serves academic research, biotechnology, and pharmaceutical development communities.
IDT products support a wide variety of applications, including next generation sequencing (NGS), DNA amplification, SNP detection, microarray analysis, expression profiling, gene quantification, and synthetic biology. Platform-independent NGS products and services are available in addition to DNA and RNA oligonucleotides, qPCR assays, siRNA duplexes, and custom gene synthesis. Individually-synthesized xGen™ Lockdown™ Probes enable improved target capture. IDT also manufactures custom adaptors, fusion primers, Molecular Identifier tags (MIDs), and other workflow oligonucleotides for NGS. A TruGrade™ processing service is also available to reduce oligonucleotide crosstalk during multiplex NGS.
Serving over 80,000 life sciences researchers, IDT is widely recognized as the industry leader in custom oligonucleotide manufacture due to its unique capabilities. IDT pioneered the use of high throughput quality control (QC) methods and is the only oligonucleotide manufacturer to offer purity guarantees and 100% QC. Every oligonucleotide is analyzed by mass spectrometry and purified oligonucleotides receive further analysis by CE and HPLC. The company maintains an engineering division dedicated to advancing synthesis, processing technology, and automation. An in-house machine shop provides rapid prototyping and custom part design/control. Additionally, IDT offers unrivalled customer support, receiving approximately 100,000 calls annually with an average wait time of only 8 seconds.
A dedicated GMP manufacturing facility for molecular diagnostics provides oligonucleotides for In Vitro Diagnostic Devices (IVDs) or Analyte Specific Reagents (ASRs) for Laboratory-Developed Tests (LDTs). This manufacturing process is customer-defined and controlled, and facilitates progression from research to commercialization.
---
Bronze Sponsor and Exhibitor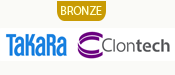 Takara Bio Europe and Clontech Laboratories are members of the Takara Bio Group, a leading supplier of tools for life scientists worldwide. Through our brand names TAKARA and CLONTECH we develop innovative technologies in the fields of Stem Cells and Epigenetics, Molecular and Cell Biology, and Gene/Protein Function. Key products include SMARTer™ cDNA synthesis kits for next generation sequencing, the innovative In-Fusion® HD Cloning Plus System, high performance PCR/qPCR reagents, Tet-regulated gene expression systems, Living Colors® Fluorescent Proteins, as well as a broad choice of viral vectors/particles and transduction tools.
Our recently launched Guide-it™ kits are excellent tools for genome engineering using CRISPR/Cas9 technology. The Guide-it™ portfolio includes kits for efficient in vitro production and screening of single guide RNAs (sgRNAs) as well as Mutation Detection and Indel Identification kits for monitoring the efficiency of genome editing.
Learn more on www.clontech.com/guide-it.
---
Bronze Sponsor and Exhibitor
Advanced Analytical Technologies Inc. (AATI) develops, manufactures and markets high-throughput, fully-automated nucleic acid and genetic analysis systems. The company's products have both commercial and research applications and are designed to improve processes within the molecular diagnostics, pharmaceutical, life science, agricultural and biofuels industries. The company's product portfolio includes instruments for the parallel analysis of biomolecules, DNA, RNA, genomic DNA, double-stranded DNA, gene editing (CRISPR/Cas9), using capillary electrophoresis (CE) with fluorescence detection or UV absorbance. The company's flagship product, the Fragment Analyzer, is recognized as the best-in-class, multi-channel, automated fluorescence-based CE detection system for the simultaneous analysis of the quantity and quality of nucleic acids, including: dsDNA fragments, gDNA, NGS fragments and RNA (total and messenger) and microsatellites (SSR). Advanced Analytical Technologies, Inc. (AATI) simplifies complex genomics workflows to accelerate research and discovery in pharmaceuticals, life science, biofuels, biotechnology and healthcare. The company has facilities in Ames, Iowa, USA and Heidelberg, Germany. We support customers through a global network of distributors and support centers.
---
Bronze Sponsor and Exhibitor
Eupheria Biotech GmbH is a young, dynamic and fast growing company, which was founded in 2010 as a spin-off of the Max Planck Institute of Molecular Cell Biology and Genetics (MPI-CBG) in Dresden, introducing highly specific and efficient silencers: esiRNAs!
In the meantime, RNA interference screens with esiRNAs have proven to be a very powerful technology to unravel gene function in basic and applied research. The specificity and cost-effectiveness of esiRNAs have revolutionized drug discovery.
Recently, we have developed our esiCRISPR (pronounced "easy CRISPR") product line to provide innovative and effective CRISPR/Cas9 tools for genome engineering.
esiRNA and esiCRISPR, because we are euphoric about phenotypes!
Our mission is to provide our customers with top quality products for RNA interference (RNAi) and targeted genome engineering (CRISPR/Cas9) together with personal scientific support.
We want your research to succeed. Get euphoric about phenotypes.
---
CRISPR 2015 Sponsors
Gold Sponsor and Exhibitor
Silver Sponsor and Exhibitor
Bronze Sponsor and Exhibitor
Bronze Sponsor and Exhibitor

Exhibitor